Human, Machine, Art, Creativity: An International Symposium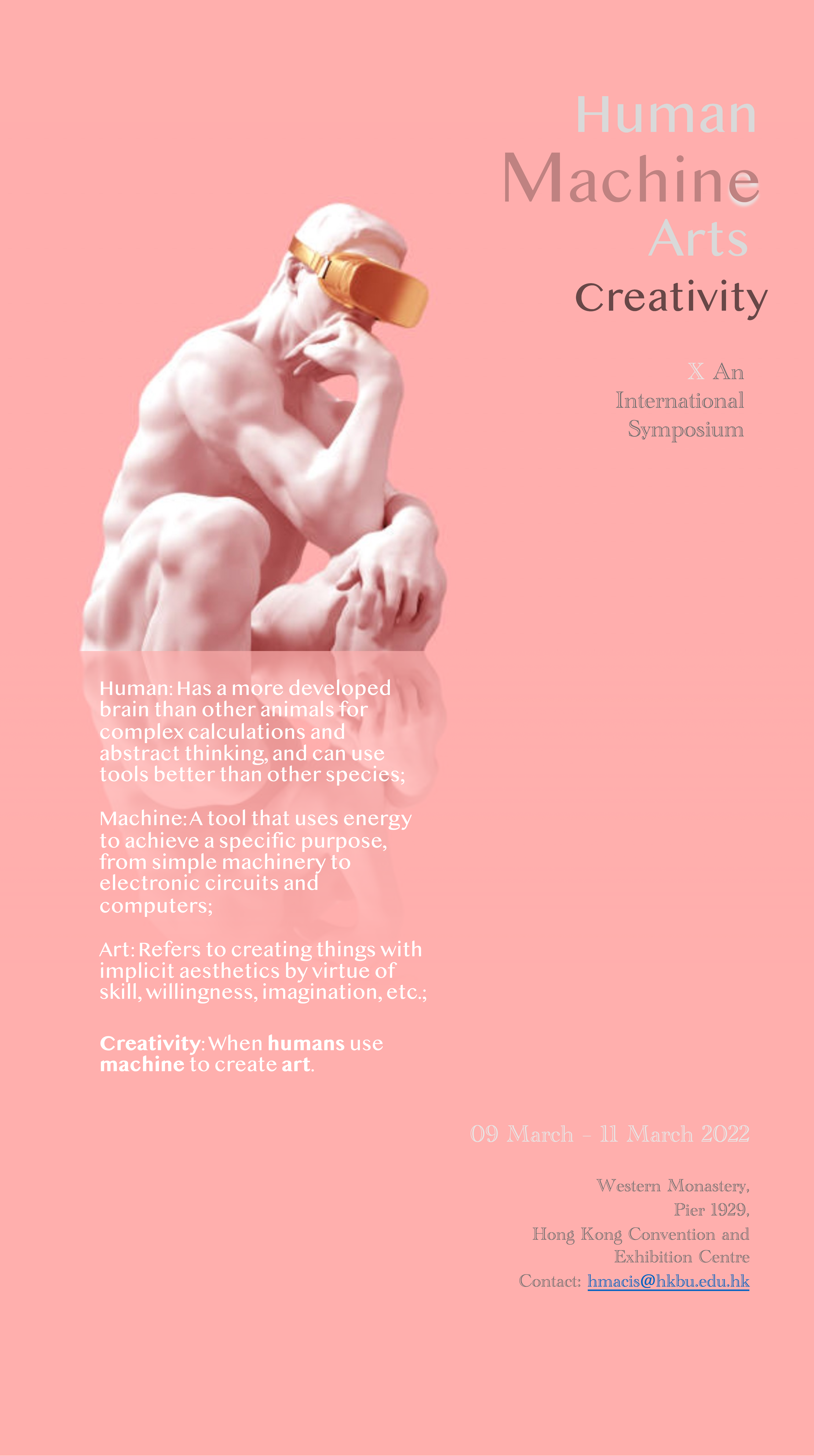 1956
Since the Dartmouth workshop in August 1956, AI has gone through several twists and turns throughout its development, and now it has ushered in a new development period. If we generally divide AI into three parts: recognition intelligence, reasoning intelligence, and aesthetic intelligence, currently recognition intelligence has made major breakthroughs in certain fields, such as information retrieval, human-computer gaming, target recognition, and biomedicine.
4 Questions
However, reasoning intelligence and aesthetic intelligence, which are of more advanced level, are both at the initial development stage and have no theoretical basis. Especially for aesthetic intelligence, despite rooted in statistical calculations, it is abstractly sublimated in humanities and arts, and closely intersected with disciplines including neuro-aesthetics, aesthetics, ethics, psychology and philosophy. Different from making artificial intelligence automatically create art and music, on the whole, AI does not possess the aesthetic ability with autonomous consciousness and is still limited to random combination and style imitation, which its created work cannot be considered art creation. In regard to aesthetic intelligence, some basic scientific questions remain to be answered:
1) Can human aesthetic dimensions and levels be expressed in a computably semantic way?
2) Can machine aesthetic dimensions and levels surpass those of human?
3) Can a machine with the aesthetic ability make real art creation?
4) Can human make significant breakthroughs in art creation with the help of machine aesthetics?
Human, Machine, Art, Creativity:
An International Symposium
This event serves as a precursor to the research project entitled "Building Platform Technologies for Symbiotic Creativity in Hong Kong" and will be held before the launch of the three application projects. We intend to invite well-known scientists, artists, and members of the industry and the public from all over the world to participate in this event to exchange ideas, share experiences and ignite sparks in the fields of AI and arts, so as to determine the future development direction of these fields.
Hong Kong, as an international city where art and technology co-exist and Eastern and Western cultures intertwine, is the perfect place for this dialogue. We plan to hold this event in late March 2022. At that time, philosophical wisdom will be nurtured in the graceful Western Monastery; beauty and art will be created at Pier 1929; and the white paper and achievements exhibition of AI and arts will be displayed to the public at the Hong Kong Convention and Exhibition Centre.
Welcome to Human, Machine, Art, Creativity.
Welcome to Hong Kong.
Host organization
Hong Kong Baptist University
Mainland Development Office
Undertaking organization
Hong Kong Productivity Council
Supporting Organizations
Chinese Association for Artificial Intelligence;
Hong Kong Society of Artificial Intelligence and Robotics;
The University of Cambridge;
The University of Hong Kong;
City University of Hong Kong;
Our Hong Kong Foundation;