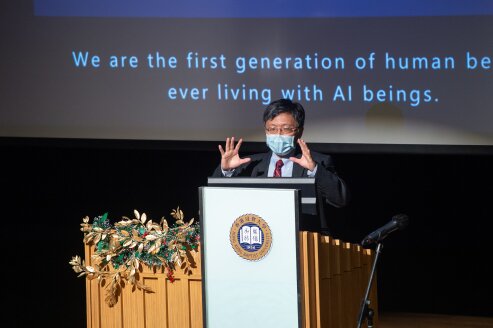 HKBU Annual Christmas Lecture: A Gentle Introduction to AI Creation by Dr. Harry Shum
21 December 2021
World-renowned artificial intelligence expert Dr Harry Shum, recipient of the honorary doctorate in Science from HKBU in 2020, delivered a talk on "A Gentle Introduction to AI Creation" at the HKBU Annual Christmas Lecture on 21 December 2021. In the Lecture, Dr Shum talked about the recent development in Artificial Intelligence (AI) and Deep Learning, which has made AI creation an exciting cross-disciplinary research area with many practical application scenarios. He then introduced three principles of AI creation and discussed the full pipeline of the AI creation process, from creating to rendering to packing.
Please click here for more details.
Higher Education Leaders Discuss Building Resilient Universities at QS APPLE Conference
1-3 November 2021
The Quacquarelli Symonds Asia-Pacific Professional Leaders in Education (QS APPLE) 2021 Conference, hosted by HKBU and co-hosted by Prince of Songkla University in Thailand, was held virtually from 1 to 3 November with the theme "Future Rebalance: Emerging trends and workforce in the Asia Pacific". The conference features more than 80 distinguished speakers from world-leading universities and organisations, and the programme includes keynote speeches, debates, panel discussions and case studies that reflect the opportunities and trends in education in the Asia-Pacific region.
Please click here for more details.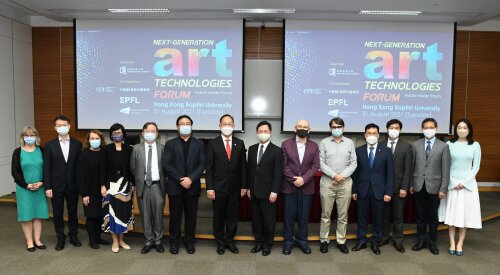 HKBU Forum Explores Next-generation Art Technologies
Tuesday, 31 Aug 2021
HKBU held the Next-Generation Art Technologies Forum on 31 August, bringing together experts from industry, academia and government to discuss the fusion of science, technology and art, and the opportunities opened up by the new era of Art Tech. The Forum, conducted in hybrid mode, was co-organised by the Cameron Pace Group – China, a 3D technology and production company led by renowned movie director James Cameron; the École Polytechnique Fédérale de Lausanne (EPFL) of Switzerland; and the School of Creative Media at the City University of Hong Kong.
Please click here for details.