Overcoming Vaccine Hesitancy in Hong Kong
Vaccination is the key to winning the battle against the novel coronavirus. It primes the human immune system to fight against the disease infection and that builds a firewall to counter the spread of the virus through society. Governments around the globe have been racing to vaccinate their nationals against COVID-19 since December, 2020. Despite the midst of recursive outbreaks and virus mutation, as of the 25th of June 2021 only 20.0% of Hong Kong's population had received both doses of a vaccine 1, far below the globally-recognized threshold of at least 80% to achieve herd immunity.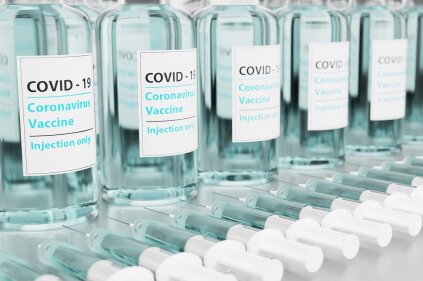 The HKSAR government launched an "Early Vaccination for All" campaign at the end of May in an attempt to accelerate the pace of vaccination. It included rewarding government employees who get vaccinated with one day of vaccination leave, relaxing social distance measures for those who have been vaccinated and organizing lucky draws with the business sector as a reward. However, Hong Kong residents tend to be better motivated by health concerns rather than money, and the population's general vaccine hesitancy calls for solutions that address underlying reasons for hesitancy rather than merely offering incentives.
The "Overcoming Vaccine Hesitancy in Hong Kong" initiative funded by the Hong Kong Baptist University aims to immediately share the incremental findings of up-to-date research on vaccine hesitancy to help the authorities formulate more effective communication tactics promoting vaccination. It will support relevant research, and also encourage the university's faculty and students to be aware of public health challenges and to contribute their knowledge and skills to seeking potential solutions.
Prompt research-informed changes in government policy and vaccination arrangements are a must to combat such a highly-infectious and fast-mutating virus. Researchers are invited to share their findings and insights as their research progresses so that decision-makers can be supplied with the latest information and transform scholarly work into real positive social change. This initiative therefore intends to facilitate the formulation of more targeted and precise interventions and policies. It should facilitate in-depth cross-sector collaboration among the government, the private sector, and society at large. It is such deliberative cooperation among a diversity of stakeholders with varied strengths which can best build public trust in vaccines.
This initiative intends to help socially or economically vulnerable communities by meaningfully engaging with them to understand barriers to vaccination, and disseminating effective, comprehensive vaccine education and campaigns.
Another major objective is to help socially or economically vulnerable communities by meaningfully engaging with them to understand barriers to vaccination, and disseminating effective, comprehensive vaccine education and campaigns. To ensure policy translates into practice, the recognition of population diversity is key to developing tailored approaches to encourage uptake and rebuild trust. In the context of COVID-19, with all its uncertainties, different segments of population need to be reassured and feel that their concerns are attended to.
In that effort we seek to develop local and international partnerships that will establish the HKBU as a leader in interdisciplinary engagement with the challenge of vaccine hesitancy. Apart from potential contributions to real-world vaccine campaigns, we also intend to make theoretical advances in this initiative. Extending the theme of overcoming vaccine hesitancy in Hong Kong, we will strive to develop new analytical approaches and lines of research applicable anywhere. Such research output would of course be extremely valuable.
With the resources of six interdisciplinary laboratories at the HKBU we intend to draw on big data analytics, communication, Artificial Intelligence, policy, economics and other areas to support an interdisciplinary analysis of the interconnected factors underlying vaccine hesitancy. From there we should be able to suggest effective and comprehensive solutions. The School of Communication and the Department of Computer Science will lead and coordinate this effort. The latest Research Assessment Exercise affirms the HKBU's world-leading research position in both areas. HKBU is the top performer in quality of media and communication research. Digital publication of interim research reports will make any findings immediately accessible. In addition to research reports, we will also establish a visual dashboard with up-to-date information about local infections and vaccination progress. We believe this effort will facilitate a coordinated response that not only improves the effectiveness of the battle against vaccine hesitancy, but also helps restore trust and a sense of common purpose in our response to the pandemic.
1 Hong Kong Government. https://www.covidvaccine.gov.hk/zh-HK/
Daily vaccine dose forecasting using Facebook Prophet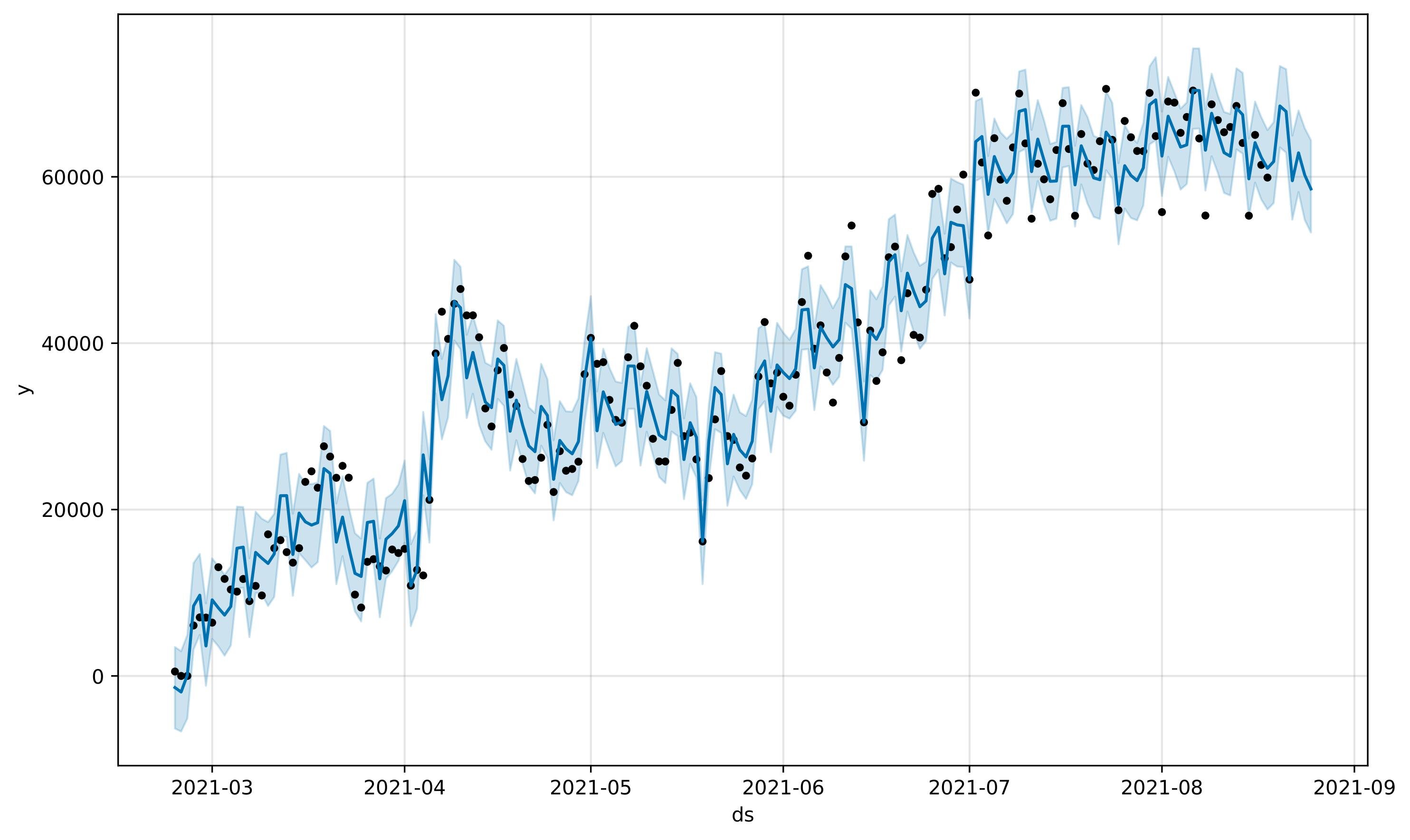 Black points: reported number; blue line: predicted curve with 95% CI
Vaccine Hesitancy Study Reports