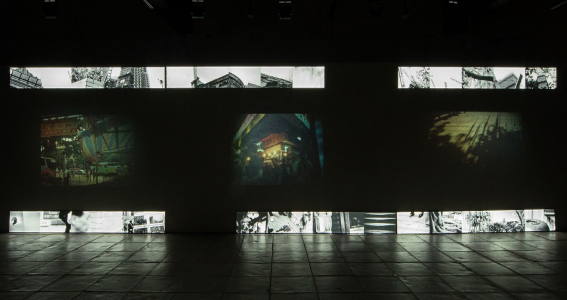 The Academy of Visual Arts is a leading international academy for teaching and research in the visual arts. The Academy offers interdisciplinary study and connectivity across a broad range of formats, media, approaches, concepts and methodologies.
Research is critical to the Academy of Visual Arts' distinctiveness, success and sustainability and is central to the quality of teaching and learning. Research at the Academy takes the form of creative, studio-based practice that addresses specific research questions or more traditional text-based research outcomes. It is organised through three interweaving strands of practice-based and theoretical inquiry in the following thematic groupings:
"Public Art and Socially Engaged Practice" is a primary research area with a focus on social context and the dissemination of practice-based research in a wide range of formats, spatial types and locations. Overall, it aims to develop new approaches and increase reach and impact.
"Media Art and New Technologies" focuses on new and emergent forms of creative media practice which utilise lens-based media, computer software, augmented and virtual reality, artificial intelligence and robotics technologies.
"Visual Arts Studies" provides a platform for the development of research in the fields of Asian ceramics, glass art, ink art and calligraphy, and particularly their interpretation in contemporary and transnational theoretical contexts.
These three research strands enable the Academy to interrogate key issues within a range of art and design practices. The impact of these focal areas transcends the academic community and brings engagement with the visual arts and underlying concepts to local, regional and international audiences. Significant impact is particularly evident with the Academy's public art projects that take the experience of visual art beyond museum and gallery walls.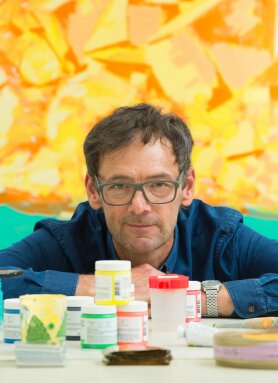 Professor Louis Nixon
Director, Academy of Visual Arts
Message from the Director
At Academy of Visual Arts, we focus on learning through creative practices, processes and materials and understanding the making of work within critical and historical contexts. Our goals are to promote new knowledge and research in the field of visual arts, raise the public's interest in arts appreciation and participation, and facilitate the professional development of young artists.
Researchers at the Academy pursue a broad and diverse agenda with special focus on public art, socially-engaged art, art and technology, and the analysis of objects in a transnational context. Our research activities are supported by the Centre for Research and Development in Visual Arts, which was established at the Academy in 2013 to enhance the development of visual arts in Hong Kong and neighbouring regions. The Research Centre offers a vibrant programme of artist-in-residence schemes, exhibitions, workshops, artist talks, guided tours and screenings, as well as a variety of publications and online resources.
Our future developments will focus on further investment in digital resources and creative technologies. This will enable us to continue to support emergent practice and research and to complement our traditional and established production studios and facilities.
Professor Louis Nixon
Director, Academy of Visual Arts
Faculty Niche Research Areas
Public Art and Social Engagement
Research Centre