VIDEO
Paul Shepherd: The Beauty and Utility of Film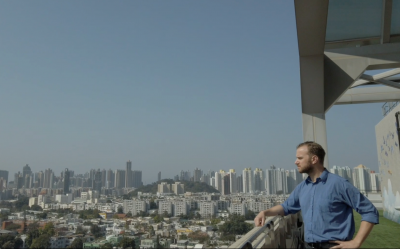 When Paul Shepherd talks about film, his passion is easily visible. Beginning his career in New York's experimental film community, Paul's career has been shaped by a commitment to both film's artistic and utilitarian purposes.
Paul joins HKBU as an Associate Professor of Practice in the Academy of Film. He received his bachelor's from New York University (NYU), and a master's in Fine Arts from the University of Southern California (USC).
Artistic and Healthcare Filmmaking
Paul has significant freelance experience on a variety of projects. In the artistic realm, he has expertise with methods such as experimental art installations, experimental film, and old and new animation technologies. He attempts to make film interactive, with magnetic, dreamy, and escapist qualities.
Following working in a research lab at Stanford University, Paul also became passionate about creating films related to healthcare. Working with important players in the healthcare industry, particularly those making healthcare more patient-centred, Paul seeks to make complex healthcare aspects entertaining for the general public via film. An example of this is 15 short films made for the Medicine X Conference at Stanford using patient stories.
Future Goals
Over the next several years, Paul will remain focussed on healthcare media that relates to individuals, and his passion for installation and video art.
HKBU looks forward to our burgeoning relationship with Paul in the years to come, and seeing what new creations he generates!