M
ainland Collaboration
As the first university in Hong Kong to collaborate with a higher education institution in mainland China, HKBU established the Institute for Research and Continuing Education (IRACE) in July 2000 to focus on innovative interdisciplinary research and top talent training. With the establishment of Beijing Normal University-Hong Kong Baptist University United International College (UIC) in 2005, a joint research scheme was applied between HKBU and UIC to facilitate research collaboration and to nurture joint Ph.D. students. In recent years, upon the opportunities of the rapid development of the country, HKBU expanded widely connection with the universities/institutions in the Mainland to implement academic collaboration in depth.
Participation in the Major National Projects and the State Key Development Areas
HKBU established the Partner State Key Laboratory of Environmental and Biological Analysis, in collaboration with the Chinese Academy of Sciences.
A scholar of SCI was carried by the manned submersible, Jiaolong, to undertake scientific research on deep-sea life and geological structures in the South China Sea.
The research team of SCM conducted a space life science study on board China's first cargo spacecraft, Tianzhou-1.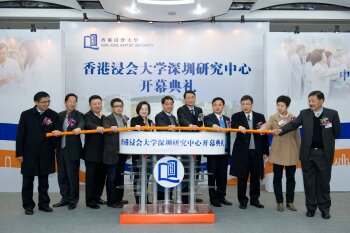 HKBU is one of the members in the alliances of various universities in the Mainland, including the Beijing-Hong Kong University Alliance (BHUA), the Shanghai-Hong Kong University Alliance (SHUA), the Guangdong-Hong Kong-Macao University Alliance (GHMUA), the University Alliance of Belt and Road (UABR), and the University Alliance of the Silk Road, to promote academic cooperation of crucial subject areas.
Collaborating with the First-tier Universities in the Mainland to Build Research Platforms to Conduct Academic Collaboration
Signing cooperation agreements and memorandums of understanding with Fudan University, Sun Yat-sen University, Xi'an Jiaotong University, Guangzhou University of Chinese Medicine, Shanghai University, etc. to carry out academic exchange and industry-academia-research collaboration.
Signing a framework agreement on the establishment of a university sub-alliance for the development of new medicines with Sun Yat-sen University, the Southern University of Science and Technology, the City University of Hong Kong, and the University of Macau. It focuses on drug discovery, resource integration, as well as high-caliber professionals training.
Signing a framework agreement with the Research Institute of Tsinghua, Pearl River Delta, to promote the scientific research development and research output industrialization.
Establishment of a Transformation Platform for the Research Outputs Contributes to Society
An HKBU technology spin-off company has established a research centre in the Healthcare Technology Park in Zhongshan, Greater Bay Area. Developed at HKBU, the critical patent rights are related to the early detection of prostate cancer and transferred to the company for development of healthcare products. It is the first biomedicine achievement transformation project settled in Zhongshan.
With the signing of "Arrangement on Enhancing Innovation and Technology Cooperation between the Mainland and Hong Kong" between the MOST and HKSAR, the emergence of new policies and initiatives will bring energy to HKBU to develop the collaboration in the Mainland.