The 19th Chinese Internet Research Conference: China and the Future of the Internet
BACK
23May 2022
9:00am - 7:30pm
24May 2022
9:00am - 5:30pm
Being the world's largest internet market by several measures, Chinese internet has a great impact on individual and collective life at the domestic, regional, and global levels. The School of Communication and Film at HKBU is hosting the 19th Chinese Internet Research Conference. This two-day virtual conference will feature over 40 paper presenters from across the globe. The speakers will explore a range of topics ranging from ethics, information, crisis management, government-citizen relationship, participation, and lifestyle to data technologies, digital diplomacy, internet laws, information ecologies, cyber governance, and other issues. Professor Jonathan Zhu of the City University of Hong Kong will deliver the keynote speech.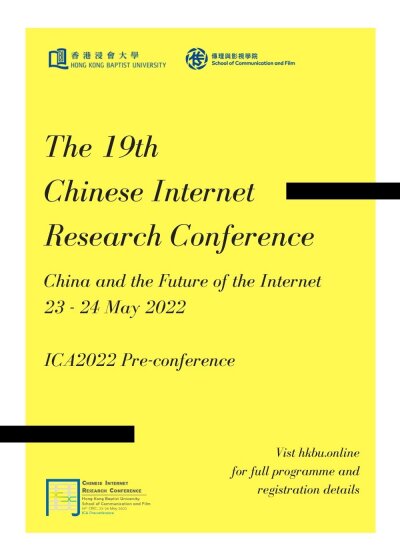 The conference is organised by Centre for Media and Communication Research, School of Communication and Film.
Click here to visit the conference website.
Click here for online registration.