返回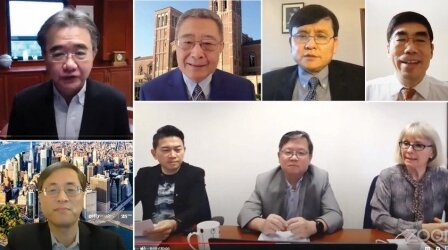 As COVID-19 wreaked havoc on a global scale, there was an emerging sense of a need for cross-cultural understanding and sincere dialogue across borders. To help explore these issues during a critical time, HKBU held the online international symposium "COVID-19 and Beyond, Culturally Speaking" on 15 and 16 September, and over 1,300 participants from all over the world gathered to examine and reflect on the COVID-19 pandemic from a cultural perspective.
In his opening remarks, Professor Roland Chin, President of HKBU, said, "To wear a mask or not to wear a mask, to do voluntary testing or to refuse it, to comply with or to defy strict social distancing, these are all cultural questions. In the future when a vaccine is available, to take a jab or not is also a cultural issue. We gathered world-renowned experts to provide solutions to the pandemic from a cultural perspective by hosting the online international symposium titled 'COVID-19 and Beyond, Culturally Speaking'."
Professor Guo Yike, Vice-President (Research and Development) and a computing science expert as well as the person who came up with the original idea for this symposium, observed that attitudes towards COVID-19 differ greatly around the world.
"From attitudes towards mask-wearing and quarantine measures, to the balance between life and living, culture has played a fundamental role. HKBU, as a liberal arts university, has science and the humanities under the same roof, working side by side. We want to take this opportunity to extend our experience and vision in a much broader sense, and join forces to manage this crisis of mankind," said Professor Guo.
The symposium was organised by HKBU's Faculty of Arts with the support of the Office of the Vice-President (Research and Development) and the School of Communication, and Professor Mette Hjort, Dean of Arts and Chair Professor of Humanities, and Professor John Erni, Head of the Department of Humanities and Creative Writing and Fung Hon Chu Endowed Professor in Humanics, were the symposium's co-convenors.
Professor Hjort said that Hong Kong has long prided itself on its global outlook and on being a place where East meets West. The symposium, which was a unique HKBU initiative, served as an excellent platform for a global dialogue that helped to define the challenges and articulate the solutions to the pandemic through a cultural lens.
The symposium brought together over 30 prominent speakers from Asia, Australia, North America, the UK, Europe and Africa. The speakers included renowned academics and experts from the fields of epidemiology, philosophy, medical humanities, cultural and film studies, as well as art and design.
During the two-day event, seven discussion panels were delivered with speakers exchanging ideas on four major areas, namely "crisis communications", "science and conscience", "death and survival" and "individual interests versus collective welfare".
Five world-renowned experts also delivered keynote speeches, which not only delved into the latest rapid test advancements as well as the epidemiological and future trends of COVID-19, but they also dug deep into the human and moral issues related to this pandemic.
Looking ahead, everyone seems to be waiting for a powerful COVID-19 vaccine to rescue the planet from this dreaded pandemic. However, as described by Professor Erni, the whole world may then be confronting what has been called "vaccine nationalism", and science does not live outside culture.
"This COVID-19 functions as a miracle mirror showing all the ugly weaknesses of human nature, including our selfishness, greed, arrogance and ignorance," said Dr George Hong, one of the keynote speakers and Professor of the Graduate School of Religion and Religious Education at Fordham University, USA. Dr Hong highly valued the symposium for fostering a fruitful global discussion on COVID-19 from a cultural dimension. He suggested that it should be further developed into a large scale research project as he believes the real solutions to the pandemic probably lie with the nature of our understanding of human frailties and virtues.