返回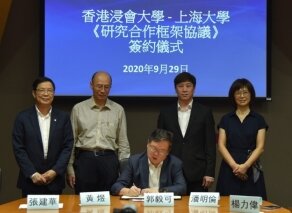 Hong Kong Baptist University signed a University-wide Comprehensive Research Collaboration Framework Agreement and co-hosted three online workshops with Shanghai University (SHU) on 29 September.
The agreement signing ceremony was held online, which was officiated by Professor Guo Yike, Vice-President (Research and Development), Professor Huang Yu, Associate Vice-President (Mainland Development), Professor Johnny Poon, Associate Vice-President (Interdisciplinary Research), Professor Zhang Jianhua, Associate Vice-President (Global Research Collaboration), Professor Gong Siyi, SHU Vice President, Professor Cui Wei, Head of the SHU Office of Hong Kong-Macau-Taiwan Affairs, and Professor Zeng Jun, Head of the Humanities and Social Sciences Office at SHU. The Agreement aims to strengthen the exchange and collaboration between HKBU and SHU in the fields of scientific research and research talent training and establish a crucial research platform, to achieve mutual benefit and win-win outcomes, drive collaborative innovation and promote the development of Shanghai and Hong Kong as well as the Yangtze River Economic Belt.
After the signing of the Agreement, the two universities co-organised online workshops in three areas, namely, Smart Media Technologies, AI and Ethics, and Film Arts, as the first research collaboration project, which invited more than 20 renowned scholars from both universities to deliver speeches on cutting-edge and hot topics and attracted nearly 1,000 participants, receiving overwhelming responses.
The two universities will combine their respective strengths in institution operation and innovative research and carry out all-round interdisciplinary academic exchanges to further enhance their research capacity and international influence.