BACK
Dr. Kevin Lo, Dr. Daphne Mah and Prof. Qiming Zhou of the Department of Geography, and Ms. Rebekah Wong of the Digital and Multimedia Services at HKBU Library recently collaborated with WWF-HK and Greenpeace to launch the Hong Kong Solar Map website. This collaborative project will support the work of researchers and promote the use of solar energy in the local community.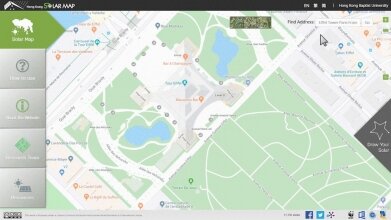 This website is a precedent-setting resource in the Greater China region that will allow users to estimate the amount of solar energy generated from solar panels installed on rooftops of the areas the users draw. Through the Hong Kong Solar Map website, users will be able to learn the answers to questions such as:
(1) How many solar panels can be installed on your building?
(2) How much electricity will the solar panels generate annually?
(3) How much will solar panels cost and how much will they save?
For more details, please refer to http://digital.lib.hkbu.edu.hk/solarmap/.