The Research Office is excited to announce the launch of a new event series called "Research Mingle" this year. Designed to empower the University's research community, Research Mingle aims to facilitate grant applications, foster collaborations, and ignite the spark of innovation through vibrant idea exchanges.
Experience the dynamic ambiance of Research Mingle as it creates an energetic and creative platform for researchers to connect. Fuelled by the aroma of coffee and tea, this series will encourage intimate and stimulating discussions, enabling researchers to delve deeper into their work and uncover groundbreaking research insights.
Join us at Research Mingle, where collaboration ignites inspiration, and together, we will shape the future of HKBU research excellence.
Past Session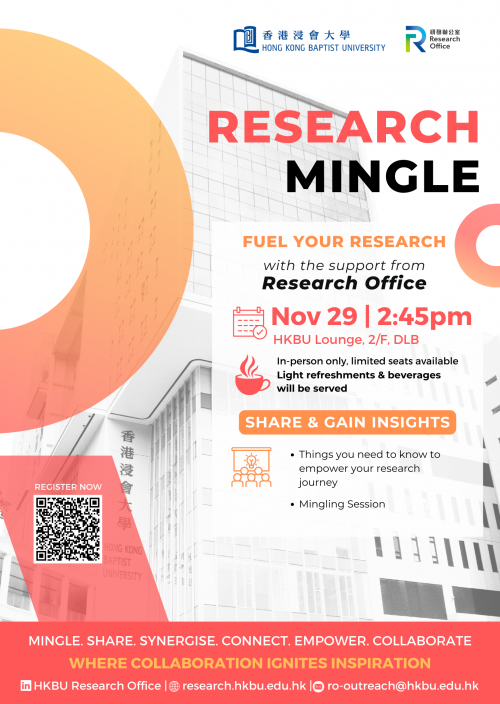 Research Mingle - Fuel Your Research with the Support from Research Office
Date: November 29, 2023
Time: 14:45 — 16:30
Venue: HKBU Lounge, 2/F, DLB
Rundown
Things you need to know to empower your research journey
Mingling Session
Event Highlights
MINGLE. SHARE. SYNERGISE. CONNECT. EMPOWER. COLLABORATE
WHERE COLLABORATION IGNITES INSPIRATION