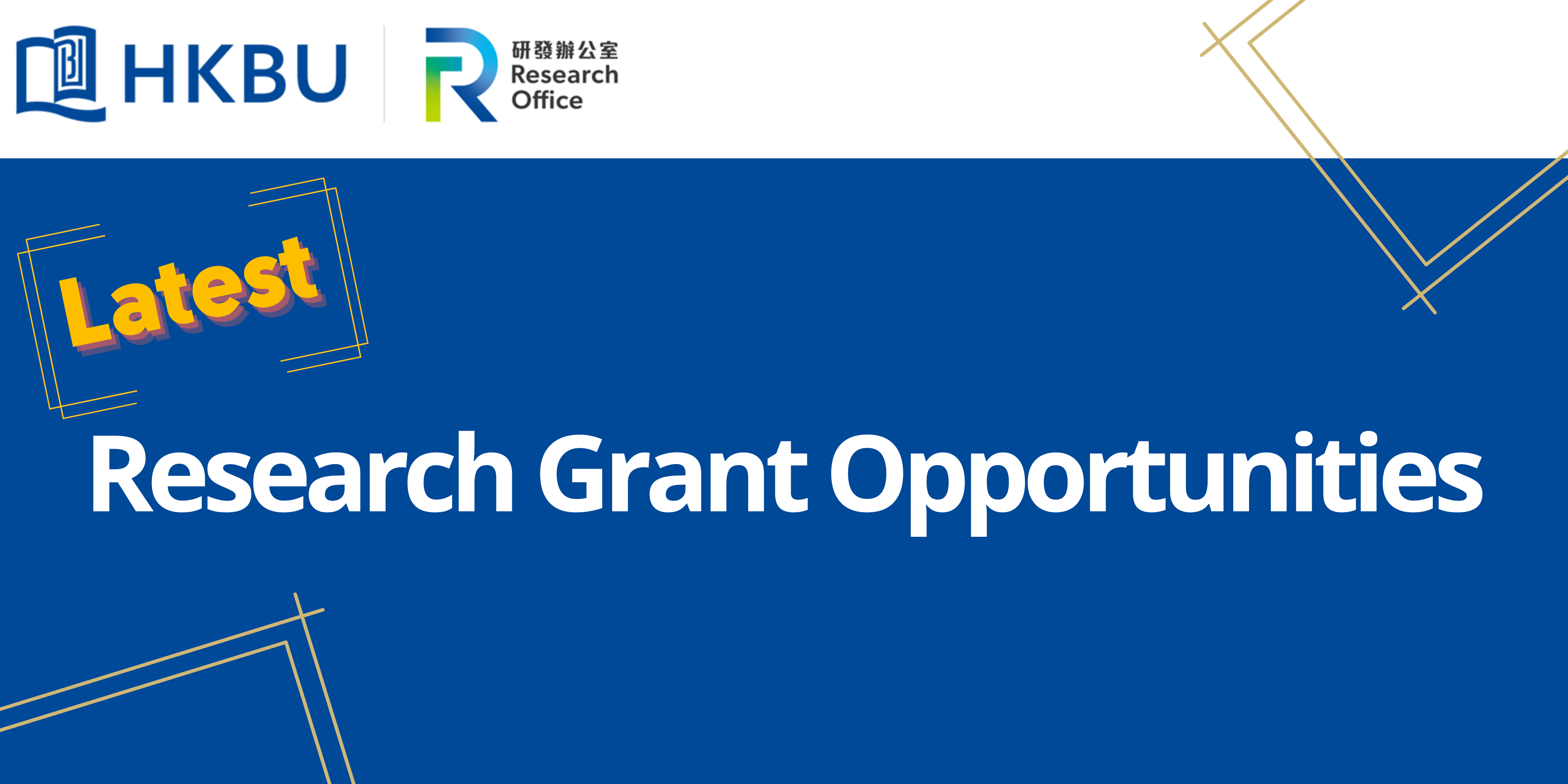 To seize the opportunity to apply for the grants applicable for your research projects, please refer to the following table* listing all research grants which are currently available for applications. Please visit the respective websites for details and application procedures.
*This table will be updated on a regular basis to ensure the latest information
No.
Funding Body
Research Grant

Maximum Funding Amount per Project

Internal Deadline
External Grants

1

CMDF

Chinese Medicine Development Fund (CMDF) – Industry Support Programme

B1-1: Chinese Medicine Industry Training Funding Scheme - HK$2.75 million
B1-2: Chinese Medicine Promotion Funding Scheme - HK$0.75 million
B2: Chinese Medicine Applied Studies and Research Funding Scheme - HK$2 million

15 December 2023

2

Croucher Foundation

Croucher Foundation - CAS-Croucher Funding Scheme for Joint Laboratories
HK$3.75 million
21 December 2023

3

RGC

European Union (EU) - Hong Kong (HK) Research Cooperation Co-funding Mechanism 2023/24

Research project proposals: HK$3 million
Exchange (mobility) proposals: HK$0.5 million

22 December 2023
4

Croucher Foundation

Croucher Foundation - Sponsorship of Conferences, Workshops and Symposia
HK$250,000 per event
27 December 2023
5

ITF

2023/24 Guangdong-Hong Kong Technology Cooperation Funding Scheme (TCFS)
Not specified
2 January 2024
6

RGC

French National Research Agency (ANR)/Research Grants Council (RGC) Joint Research Scheme (JRS) 2024/25

For Hong Kong applicants: HK$3 million
Indicative average funding for French applicants: €280,000

1 March 2024

Mainland Grants More details: IRACE

7

MOST

"政府間國際科技創新合作"重點專項2024年度第一批項目
Not specified
8 December 2023
8

NSFC

國家自然科學基金委員會管理科學部2023年第3期應急管理項目
《雙循環背景下普惠金融高質量發展路徑與影響機制》

General Topic: RMB 300,000
Sub-topic: RMB 200,000

8 December 2023
9

SZIHQ

龍華區科技創新局關於開展龍華區2023年軟科學扶持項目申報的通知
RMB 200,000 - RMB 300,000
8 December 2023
10

SHKS

Hong Kong Scholars Program 2024
HK$ 658,800 per fellow
13 December 2023
11

NSSFC

2023年度國家社科基金中華學術外譯項目申報公告

Scholarly Book Projects: Not more than RMB 500,000
Foreign Language Academic Journal Project: RMB 400,000-600,000

15 January 2024

All Year Round Grants

12

ITF

General Support Programme (GSP)
Not specified
All Year Round
13

ITF

Partnership Research Programme (PRP)
Not specified
All Year Round
14

ITF

Innovation and Technology Fund for Better Living (FBL)
90% of the total eligible costs of the project or HK$5 million, whichever is the less.
All Year Round
15

ITF

Research Talent Hub for ITF projects (RTH-ITF)

Monthly allowance for the research talents based on their highest academic qualifications:

Bachelor's degree: HK$20,000
Master's degree: HK$23,000
Doctoral degree: HK$35,000 (with an additional monthly living allowance of HK$10,000 for up to 36 months)

All Year Round
16

Chief Executive's Policy Unit (CEPU)

Public Policy Research Funding Scheme (PPRFS)
HK$1 million or below. Strong justifications are required for any projects costing over HK$1 million.
All Year Round
We hope you find the information useful, and we wish you every success in your grant applications.
If you need further assistance, please feel free to contact the Research Office at ro-rgm@hkbu.edu.hk.